This post originally appeared on NPR – click here to listen to the interview and read the full story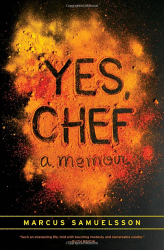 Marcus Samuelsson owns two restaurants in New York City and two restaurants in Sweden. He's cooked for President Obama and prime ministers, served as a judge on Top Chef andChopped, and recently competed against 21 other chefs on Top Chef Masters. (He won.) He's the youngest chef ever to receive two three-star ratings from The New York Times.
Samuelsson's journey to some of the most celebrated restaurants in the U.S. was a long one — and started several thousand miles away. He was born in rural Ethiopia, where he contracted tuberculosis when he was 3 years old. His mother, who was also battling the disease, walked with Samuelsson and his sister 75 miles to a hospital in Addis Ababa. Though Samuelsson and his sister recovered, their mother did not. After her death, both Samuelsson children were adopted by a family in Sweden.
Samuelsson details his path from Sweden, where he learned to cook from his grandmother Helga, to New York City and the Food Network in his memoir, Yes, Chef — in which he pays homage to his Swedish family and to food.