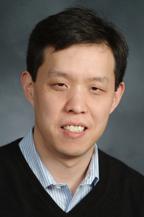 A new study published by Dr. Kyu Rhee's laboratory at the Weill Cornell Medical College details a potential mechanism driving Mycobacterium tuberculosis' intrinsic resistance to antibiotics.
Physicians and scientists have known for many years that tuberculosis is intrinsically resistant to antibiotic treatment. While it was believed that the bacterium's excessive cell wall granted this protection, the recent study published by Dr. Kyu Rhee's group shows that tuberculosis uses the enzyme isocitrate lyase (ICL) to mitigate the effects of oxidative stress caused by antibiotic treatment. The paper published in Nature Communications on June 30th demonstrates this key additional function of ICL. Before the publication of this work, ICL was pinpointed as a key enzyme necessary for tuberculosis to establish productive infections. The discovery of ICL's role in protecting tuberculosis from reactive oxygen species caused by antibiotic treatment now prompts a re-evaluation of potential strategies to inhibit it as a target for future TB drugs. Dr. Rhee says "nearly all TB drugs have significant side effects, some of which are dose limiting. If you can target ICL and increase the sensitivity of tuberculosis to antibiotics, you may be able to increase both the safety and efficacy of existing antibiotics." Importantly, Dr. Rhee's work emphasizes the concept that additional drugs that sensitize bacteria to antibiotics could galvanize the use of existing antibiotic regiments against tuberculosis.
About Dr. Kyu Rhee
Dr. Kyu Rhee, MD. Ph.D. is a board certified Infectious Disease physician and Associate Professor at the Weill Cornell Medical College. One of his laboratory's interests is to investigate the molecular mechanisms of "essentiality" in tuberculosis, defined as those processes required for the bacterium's survival and viability. By identifying "essential" phenotypes and determining their mechanisms of action, Dr. Rhee aims to uncover potential TB drug targets. To learn more about Dr. Rhee and his research, click here.
Related Links
Isocitrate lyase mediates broad antibiotic tolerance in Mycobacterium tuberculosis
Enzyme Enables Tuberculosis to Resist Treatment
Additional Links
In vitro activity of AZD5847 against geographically diverse clinical isolates of Mycobacterium tuberculosis
Research may yield new ways to treat antibiotic-resistant TB
Scientists establish proof-of-concept for host-directed tuberculosis therapy