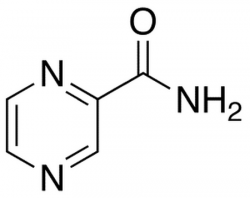 Shi W, Zhang X, Jiang X, Yuan H, Lee JS, Barry CE 3rd, Wang H, Zhang W, Zhang Y. Pyrazinamide Inhibits Trans-Translation in Mycobacterium tuberculosis. Science. 2011 Aug 11. [Epub ahead of print]
This week we highlight an article published out of Ying Zhang's laboratory at Johns Hopkins University that puts forth a new model for the mode of action of pyrazinamide (PZA) and as well as suggest trans-translation as a potential target to consider in the development of new drugs for TB.
Abstract:
Pyrazinamide (PZA) is a first-line tuberculosis drug that plays a unique role in shortening the duration of tuberculosis chemotherapy. PZA is hydrolyzed intracellularly to pyrazinoic acid (POA) by pyrazinamidase (PZase, encoded by pncA), an enzyme frequently lost in PZA-resistant strains, but the target of POA in Mycobacterium tuberculosis has remained elusive. Here, we identify a new target of POA as the ribosomal protein S1 (RpsA), a vital protein involved in protein translation and the ribosome-sparing process of trans-translation. Three PZA-resistant clinical isolates without pncA mutation harbored RpsA mutations. RpsA overexpression conferred increased PZA resistance, and we confirmed that POA bound to RpsA (but not a clinically identified ΔAla mutant) and subsequently inhibited trans-translation rather than canonical translation. Trans-translation is essential for freeing scarce ribosomes in nonreplicating organisms, and its inhibition may explain the ability of PZA to eradicate persisting organisms.
Note: A patent has been filed by Johns Hopkins University on use of the RpsA as a marker for pyrazinamide resistance and use of the trans-translation pathway as a target for new drugs for TB.
Additional TB R&D News:
Proteins with Complex Architecture as Potential Targets for Drug Design: A Case Study of Mycobacterium tuberculosis
Current Opinion in Microbiology: New tuberculosis drugs on the horizon
Journal of Medicinal Chemistry: Current Status and Research Strategies in Tuberculosis Drug Development
Cellestis Responds to World Health Organization Guidance on Use of Blood Tests for Active Tuberculosis
Bayer HealthCare to provide tuberculosis treatments for China
New Disease Modeling Grants Target Dengue, TB, Other Infections