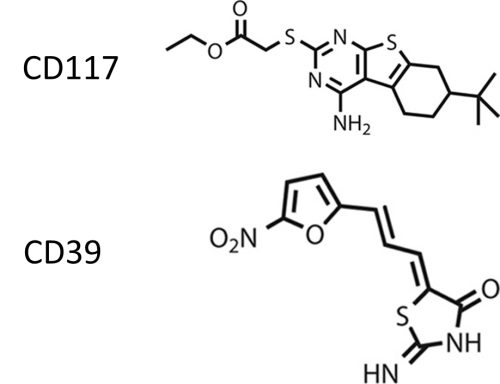 Vilchèze C, Baughn AD, Tufariello J, Leung LW, Kuo M, Basler CF, Alland D, Sacchettini JC, Freundlich JS, Jacobs WR Jr. Novel Inhibitors of InhA Efficiently Kill Mycobacterium tuberculosis under Aerobic and Anaerobic Conditions. Antimicrob Agents Chemother. 2011 Aug;55(8):3889-98. Epub 2011 May 31.
This week's featured article looks at novel InhA (target of isoniazid (INH), a first-line TB drug) inhibitors and their ability to kill M. tuberculosis (M.tb) that is drug-sensitive, resistant and in dormant stage. Vilchèze, et al., did whole cell screening to identify compounds initially screened against a similar enzyme target for a pathogen that causes malaria. The goal was to find compounds that had the same target as INH but could address some of the weaknesses of INH that often leads to resistance. Two compounds were identified that had significant bactericidal activity against M.tb: CD 39 and CD117.
Key points from the article include:
Looking at bactericidal activity on drug-sensitive strains of M.tb., CD39 and CD117 showed up 4-log decreases in CFU titers and this was consistent between strains (H37Rv, CDC1551, Erdman, and Beijing)
Testing the compounds against INH resistant clinical isolates, CD39 and CD117 performed even better against these resistant strains when compared to wild-type strain. These results held up when the compounds were tested against isolates with different resistance patterns.
The authors used the Wayne model, in vitro model for M.tb dormancy, to see how the compounds performed against bacteria grown in a way to mimic the conditions of latency. Both CD39 and CD117 showed concentration dependent effects.
Looking at toxicity and intracellular bacterial killing, CD39 showed more toxicity suggesting the need for more chemical modifications with CD117 having a dose dependent effect. The authors suggested that both compounds undergo structure-activity relationship studies to improve activity, decrease toxicity and increase solubility.
The compounds seems to inhibit both fatty acid synthesis systems and to have multiple targets which could reduce the development of drug resistance.
Additional TB R&D News:
UAB researcher returns home to South Africa to study TB at new center
Capreomycin shortage: symptom of a bigger problem in multidrug-resistant tuberculosis
Seegene Introduces Anyplex plus MTB/NTM/DR-TB Real-time Test, a One-stop Solution for Diagnosing Tuberculosis
Aeras, CNBG to co-develop TB vaccines
Nonprofits share valuable lessons on efficient drug development
Public-private partnership needed to fight TB, says PCC chairperson
Lupin Said to Consider Sale of Indian Drugs Unit; Deal May Reap $1 Billion