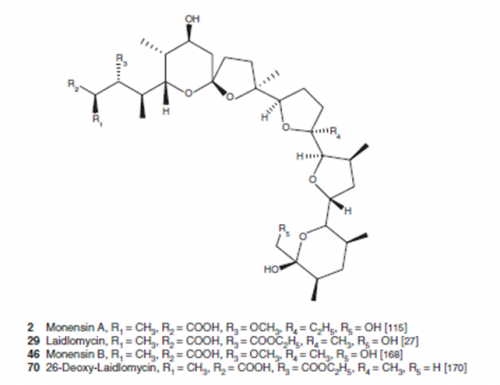 Kevin DA, Meujo DAF, Hamann MT. Polyether ionophores: broad-spectrum and promising biologically active molecules for the control of drug-resistant bacteria and parasites. Expert Opinion on Drug Discovery 2009 Feb;4(2):109-146(38). doi:10.1517/17460440802661443.
During this week's TB R&D Weekly Update, we explore the potential of polyether ionophores as anti-tuberculosis agents in an article published in 2009 by Kevin, et al. Monensin, a known class of antibiotics discovered in 1967, is a polyether ionophore. These compounds are naturally occurring materials generated by a large range of bacteria (e.g. Streptomyces, Actinomadura). They are highly lipophilic with a high molecular weight (500-1000 amu). Their spectrum of activity is quite broad and includes antibacterial, antifungal, antiparasitic, antiviral, antineoplastic activities, anti-inflammatory, immunoregulatory, and CNS activity. Key points to consider regarding polyether ionophores and their use as anti-tuberculosis agents are:
These compounds are well-known, naturally occurring, inexpensive, broad spectrum bioactive materials currently used extensively in veterinary medicine against parasites and in food production as a growth promotant.
The mechanism of action is through the disruption of ion gradients across cellular membranes.
There may be opportunity for synergism with other energy metabolism inhibitors (i.e., TMC207 or clofazimine).
There is evidence these compounds exhibit anti-HIV activity (article) and could be used in HIV co-infected TB patients.
There is evidence of some cardiovascular and hemodynamic toxicities but these are poorly understood and appear to be species-dependent.
Additional TB R&D News:
Early bactericidal activity of delamanid (OPC-67683) in smear-positive pulmonary tuberculosis patients
Short-course Chemotherapy with TMC-207 and Rifapentine in a Murine Model of Latent Tuberculosis Infection
Incidence of Moxifloxacin Resistance in Clinical Mycobacterium tuberculosis Isolates in Houston, Texas
Next Steps for Tenofovir Gel: Conrad And TIA Sign License Agreement