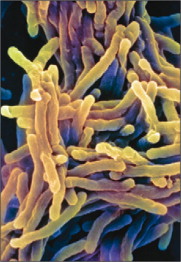 Vento S, Lanzafame M. Tuberculosis and cancer: a complex and dangerous liaison. Lancet Oncol. 2011 Jun;12(6):520-2.
This week we review a commentary on the correlations between tuberculosis and cancer, specifically lung cancer. There are three major questions that Vento & Lanzafame seek to answer in the article:
How can TB promote lung cancer?
Does cancer promote tuberculosis reactivation?
HIV infection is associated with increase lung cancer cases., can TB further increase this risk?
For question number one, the explanation given centers around the factor involved in the inflammation and fibrosis that occurs in the lung during TB disease. The factors that control TB infection (TNF-α) can promote tumor survival and tumor initiation.
To answer the second question, the authors cite studies by Wu, et al., that showed cancers of the aerodigestive tract and hematological cancers are significant risk factors for TB.
The complexity of the relationship between tuberculosis and cancer is apparent when it comes to diagnosis. The author points to a few aspects to consider for diagnosis:
Cancer should be suspected if there are changes (whether symptomatic or radiographical) in a patient after months or years after TB infection.
Every effort should be made to check for TB when cancer is diagnosed to initiate TB treatment.
In developing countries, TB is often suspected over cancer creating delays in diagnosis of cancer. The symptoms of TB and lung cancer are very similar.
Finally, the answer to question three seems to be "no". A study by Shebl, et al. showed that lung cancer risk over 10 years was unrelated to TB in patients with AIDS diagnosis.
Additional links to TB R&D News:
The evolution of drug resistance and the curious orthodoxy of aggressive chemotherapy
Slowing the spread of drug-resistant diseases is goal of new research area
Antibiotic Incentive Bill Reintroduced: Industry Hopes for 2012 Enactment