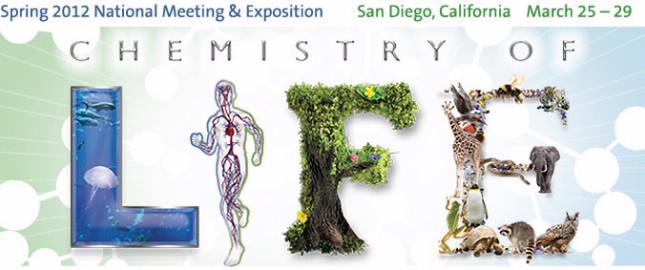 The 243rd American Chemistry Society National Meeting and Exposition is being held in San Diego, California, from March 26 to March 29. There are several presentations on tuberculosis. Here are the abstracts of a few of the talks. The first item received news coverage and discusses two approved antibiotics that may prove effective in treating TB:
Tuberculosis: Searching for an Achilles heel (179), John S Blanchard, Albert Einstein College of Medicine, NY, United States
The emergence of strains of Mycobacterium tuberculosis that are resistant to essentially all current drugs (XDR-TB) raises a haunting specter of worldwide proportions. In an effort to identify compounds that are potentially effective against these strains, we have investigated the kinetics and mechanism of the chromosomally-encoded blaC gene that encodes the single, constitutively produced b-lactamase. The enzyme hydrolyzes penicillins and cephalosporins at near the diffusion-limited rate, but hydrolyzes carbapenems very slowly. We have shown that the enzyme is irreversibly inactivated by clavulante, suggesting that the combination of clavulanate, and a poor b-lactam substrate would be effective in killing the organism. We show that the combination of clavulanate and meropenem inhibit growth, and are bactericidal against both rapidly growing and non-replicating populations. Further, the combination is effective against 13/13 clinical strains of XDR-TB. Recent reports suggest that this combination is effective in humans infected with XDR-TB.
Additional coverage in the news: Two Drugs Already On the Market Show Promise Against Tuberculosis
Experiences, successes, and challenges in developing mycobacterium tuberculosis whole cell screening hits as potential antituberculosis agents (5),Christopher Cooper, Global Alliance for TB Drug Development, NY, United States
Tuberculosis (TB) remains a devastating infectious disease worldwide. It is estimated that over one third of the world's population is infected with TB, with 9.2 million new cases, and nearly three million people succumbing to TB every year. The rise in HIV/TB co-morbidity and mortality as well as MDR- and XDR-TB strains has reaffirmed the global threat of TB in both the developing as well as developed world. New safer TB drug regimens are desperately needed to decrease patient treatment time and complexity, combat the rise of resistant bacilli, and enhance overall quality of life. This presentation will attempt to: (i) describe the current pipeline of discovery and development programs at the TB Alliance, (ii) elaborate on the global TB communities successes/challenges with target- vs. phenotypic screening-based approaches to novel anti-TB agents, and (iii) present the TB Alliance's strategic focus on the identification and interrogation of combined genetically and pharmacologically-validated M.tb biochemical targets and pathways of interest. Specific examples of recent efforts in these areas will be presented.
Discovery and development of highly potent inhibitors of Mycobacterium tuberculosis growth in vitro (163), Warren S. Weiner1, Frank Schoenen1, Apurba Dutta1, Jeffrey Aubé1,4, E. Lucile White2, Clinton Maddox2, Ntsang Miranda Nebane2, Nichole A. Tower2, Sara McKellip2, Anna Manuvakhova2, Lakshmi Reddy2, Melinda Sosa2, Lynn Rasmussen2, Kanupriya Whig2, Subramaniam Ananthan2, Shichun Lun3, William Bishai3. (1) Specialized Chemistry Center, University of Kansas, Lawrence, Kansas 66047, United States, (2) Southern Research Molecular Libraries Screening Center, Southern Research Institute, Birmingham, Alabama 35205, United States, (3) Center for Tuberculosis Research, Division of Infectious Diseases, Department of Medicine, Johns Hopkins University School of Medicine, Baltimore, Maryland 21231, United States, (4) Department of Medicinal Chemistry, University of Kansas, Lawrence, Kansas 66047, United States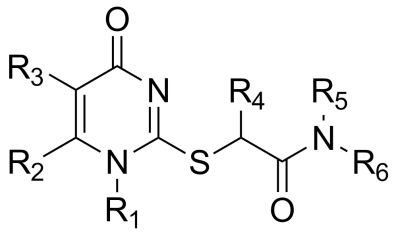 [p]Tuberculosis (TB) is a bacterial disease infecting over 2 billion people and is caused by Mycobacterium tuberculosis (M. tb). HTS identified a number of novel scaffolds with antitubercular activity. Here we report the medicinal chemistry efforts on a scaffold leading to highly active small molecules with low nanomolar activity against M. tb in vitro and very low general cytotoxicity.
Collaborative drug discovery and structural genomics: Positive impact for neglected disease research (94), Aled Edwards1, Raymond Hui1, James Sacchettini2, Amy Wernimont1, Peter Brown1. (1) University of Toronto, Toronto, Ontario M5S 1A1, Canada, (2) Texas A&M University, College Station, TX 77843, United States
It has become apparent that traditional, target-based methods for drug discovery are not as effective for antimicrobials and neglected diseases. However, drug discovery efforts using the combined forces of academic and industrial expertise in an atmosphere of open innovation have shown promise.[p]The Structural Genomics Consortium and the Tuberculosis Structural Genomics Consortium have successfully formed open collaborations with many academic and industrial partners. Our expertise encompasses not only the atomic structure of key drug targets, but also high throughput protein expression, characterization, and enzymatic screening – all key elements for early stage drug discovery. This high throughput streaming is a perfect fit for neglected disease drug discovery, which needs accelerated efforts to develop novel therapeutics quickly.[p]We discuss our successes with drug discovery and research, and present the tools and resources available within structural genomics that will more efficiently impact collaborative drug discovery for neglected diseases in the future.
There were a total of 37 abstracts related to tuberculosis and can be viewed by registering at ACS Program and Abstract Creation System (PACS) and then searching for tuberculosis.
Additional R&D News:
Tuberculosis vaccine being tested in Phase II trial
Experts find link between TB and diabetes
The Sentinel Project on Pediatric Drug-Resistant Tuberculosis