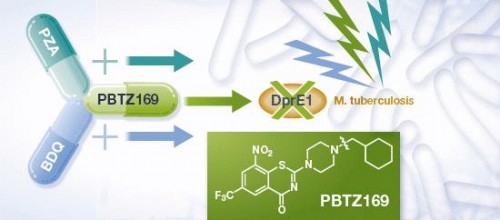 Vadim Makarov et. al. Towards a new combination therapy for tuberculosis with next generation benzothiazinones. EMBO Molecular Medicine. 2014. March 1; 6(3). doi: 10.1002/emmm.201303575
A new antibiotic, labeled 'PBTZ169', has been shown to be effective against drug sensitive and MDR-tuberculosis by researchers at EPFL and the Bach Institute in Moscow. In a paper published in EMBO Molecular Medicine, researchers showed that PBTZ169 inhibited DprE1, an essential enzyme in cell wall biosynthesis. Furthermore, combination treatment of PBTZ169 with BDQ and pyrazinamide was shown to be more efficacious than the standard treatment for tuberculosis in a mouse model.
Following the publication of PBTZ169, researchers set up Innovative Medicines for Tuberculosis (iM4TB), an organization whose mission is to help usher the new antibiotic to market. Clinical trials of PBTZ169 are scheduled to begin in 2015. For more information on iM4TB visit http://im4tb.org/.
Additional Coverage and Links
EPFL sets up foundation to release antibiotic for tuberculosis
http://www.newtbdrugs.org/project.php?id=145554
Additional TB R&D News
Time-Dependent Diaryl Ether Inhibitors of InhA: Structure–Activity Relationship Studies of Enzyme Inhibition, Antibacterial Activity, and in vivo Efficacy