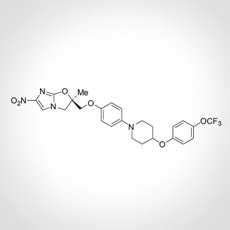 Diacon AH, Dawson R, Hanekom M, Narunsky K, Venter A, Hittel N, Geiter LJ, Wells CD, Paccaly AJ, Donald PR. Early bactericidal activity of delamanid (OPC-67683) in smear-positive pulmonary tuberculosis patients. Int J Tuberc Lung Dis. 2011 Jul;15(7):949-54.
This week, we review a recent article published in the July issue of IJTLD on the TB drug candidate OPC-67683 whose new generic name is delamanid. Diacon, et al., present data showing that delamanid is safe, well-tolerated with significant early bactericidal activity.
The results reported are from the Phase IIa Early Bactericidal Activity (EBA) study which evaluates a drug candidates short-term potency when given as a single drug and at different doses. These studies are now generally 14-days and look at the log reduction of colony forming units (CFU) of M. tuberculosis in sputum collections from patients.
Highlights from the article are:
54 patients were randomized with 96% completing study treatment. The two patients that did not complete treatment were withdrawn on day one of treatment due to protocol violation and insufficient sputum production.
4 doses were evaluated: 100 mg, 200 mg, 300 mg, 400 mg. For first 2 days averaging all dosages, the EBA was similar to rifabutin, streptomycin and amikacin; higher than pyrazinamide; and lower than isoniazid, ethambutol, linezolid, rifampin and rifapentine. A greater proportion of patients achieved a reduction in CFU of ≥0.9 log10 in the 200 mg and 300 mg treatment arms compared to 100 mg.
The was no apparent dose response with plasma concentrations plateauing at 300 mg. It was noted that delamanid is poorly soluble in water and has limited absorption at higher dosages.
Results were optimistic and delamanid is currently undergoing evaluation in MDR-TB patients.
Additional TB R&D News Updates:
Report–New Drugs to Tackle Antimicrobial Resistance: Analysis of EU Policy Options
Incidence of Moxifloxacin Resistance in Clinical Mycobacterium tuberculosis Isolates in Houston, Texas
Low rate of fluoroquinolone resistance in Mycobacterium tuberculosis isolates from northern Tanzania
Herbal TB Immunotherapy to be Presented at Hong Kong Conference