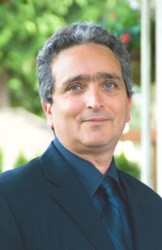 Summary: Dr. Yossef Av-Gay, a professor in the Division of Infectious Diseases at the University of British Columbia, recently published a paper in the Proceedings of the National Academy of Sciences (PNAS) entitled "Mycobacterium tuberculosis protein tyrosine phosphatase (PtpA) excludes host vacuolar-H+–ATPase to inhibit phagosome acidification." The paper provides evidence to that points to a specific protein that allows Mtb to bypass the body's defenses. In this interview, we discuss the recently published paper, his contribution to TB drug discovery and the focus of his research.
Dr. Av-Gay's Laboratory research is focused on the molecular pathogenesis of Mycobacterium tuberculosis in order to identify new targets for drug therapy. Using bioinformatic and pathogenomic tools, we have identified three molecular targets and we are now characterizing them for their contribution to TB pathogenesis. These targets are protein kinases of M. tuberculosis, mycothiol production and cholesterol utilization by mycobacteria.
Additional Coverage:
The stealth art of infectious agents: researchers uncover why the body can't defend against tuberculosis
Additional TB R&D News:
2011 WGND Annual Meeting Recap now available!

IDRI Announces New VP Tuberculosis Drug Development
UK and Indian researchers unite to fight global tuberculosis epidemic
South Africa: Fight against TB yielding positive results
TB risk increases in early pregnancy, study shows
Global Tuberculosis Diagnostics Market: Growth Opportunities and Business Expansion Strategies
Discordance Among Commercially-Available Diagnostics For Latent Tuberculosis Infection