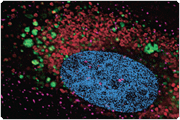 Napier RJ, Rafi W, Cheruvu M, Powell KR, Zaunbrecher MA, Bornmann W, Salgame P, Shinnick TM, Kalman D. Imatinib-Sensitive Tyrosine Kinases Regulate Mycobacterial Pathogenesis and Represent Therapeutic Targets against Tuberculosis. Cell Host Microbe. 2011 Nov 17;10(5):475-85.
This week's article looks at host factors that contribute to the ability of Mycobacterium tuberculosis (Mtb) to enter and survive within macrophages. The authors explore the role of tyrosine kinases (TKs) as a mediator for Mtb and the use of an inhibitor of TKs to act against Mtb and related bacteria. Key points from the article are:
Data from experiments using TK inhibitors and cell lines from knockout animals show that there is a role for specific TKs in Mtb and related bacteria's processes for entry and intracellular survival. Also, it appears multiple kinases mediate intracellular survival within macrophages.
Imatinib, an inhibitor of some TKs and used in cancer therapy, was shown to reduce bacterial loads in macrophages and mice infected with Mtb or M. marinum. Imatinib also seems to have synergy with drugs like rifampicin and rifabutin.
There has been low toxicity reported in patients although there is some reported toxicity in patients taking imatinib with long-term exposure. This may suggest looking at imatinib as a therapeutic against active TB or reactivated TB. The benefit of targeting the host with imatinib is that the bacteria would need to make a major adaptation to develop resistance and also could confer some protection to current first-line drugs by reducing the bacterial burden below the spontaneous mutation frequency.
Additional TB R&D News:
SRI Researchers Validate Preclinical Effectiveness of Tuberculosis Drug Target that Could Shorten Treatment Time
Hyderabad scientists discover TB bacteria killer
Eli Lilly and Company Provides IDRI with Additional Funding for Identification of New Tuberculosis Therapies
Tuberculosis – Novel Tools And Coordination Required
Webcams Connect TB Patients to Public Clinic for Treatment Compliance