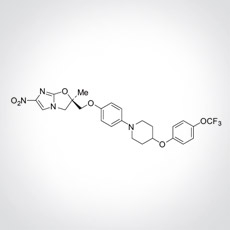 This week, efficacy data from the recently completed Phase 2 randomized placebo-controlled trial in MDR patients evaluating delamanid with background treatment compared to placebo with background treatment was published yesterday in the New England Journal of Medicine. Delamanid (OPC-67683) is a new agent derived from the nitro-dihydro-imidazooxazole class of compounds that inhibits mycolic acid synthesis. The abstract and overview of news coverage are presented below.
Abstract
Background: Delamanid (OPC-67683), a nitro-dihydro-imidazooxazole derivative, is a new antituberculosis medication that inhibits mycolic acid synthesis and has shown potent in vitro and in vivo activity against drug-resistant strains of Mycobacterium tuberculosis.
Methods: In this randomized, placebo-controlled, multinational clinical trial, we assigned 481 patients (nearly all of whom were negative for the human immunodeficiency virus) with pulmonary multidrug-resistant tuberculosis to receive delamanid, at a dose of 100 mg twice daily (161 patients) or 200 mg twice daily (160 patients), or placebo (160 patients) for 2 months in combination with a background drug regimen developed according to World Health Organization guidelines. Sputum cultures were assessed weekly with the use of both liquid broth and solid medium; sputum-culture conversion was defined as a series of five or more consecutive cultures that were negative for growth of M. tuberculosis. The primary efficacy end point was the proportion of patients with sputum-culture conversion in liquid broth medium at 2 months.
Results: Among patients who received a background drug regimen plus 100 mg of delamanid twice daily, 45.4% had sputum-culture conversion in liquid broth at 2 months, as compared with 29.6% of patients who received a background drug regimen plus placebo (P=0.008). Likewise, as compared with the placebo group, the group that received the background drug regimen plus 200 mg of delamanid twice daily had a higher proportion of patients with sputum-culture conversion (41.9%, P=0.04). The findings were similar with assessment of sputum-culture conversion in solid medium. Most adverse events were mild to moderate in severity and were evenly distributed across groups. Although no clinical events due to QT prolongation on electrocardiography were observed, QT prolongation was reported significantly more frequently in the groups that received delamanid.
Conclusions: Delamanid was associated with an increase in sputum-culture conversion at 2 months among patients with multidrug-resistant tuberculosis. This finding suggests that delamanid could enhance treatment options for multidrug-resistant tuberculosis. (Funded by Otsuka Pharmaceutical Development and Commercialization; ClinicalTrials.gov number, NCT00685360.)
Additional coverage:
Source: Drug Information Association (DIA) Daily Briefing June 7, 2012
Reuters (6/7, Emery) reports that a recent study published in the New England Journal of Medicine has found that almost half of the patients who received a new experimental antibiotic against multi-drug-resistant tuberculosis were cleared of the bacteria in their lung fluid in two months. The experimental drug is called delamanid, and Reuters adds that the clinical trial showed that participants who received the drug, along with a standard regimen of other anti-tuberculosis medicines, were more likely to see the bacteria disappear than those participants who only received older anti-TB medications.
Bloomberg News (6/7, Matsuyama) notes that "Otsuka Holdings Co. (4578) executives are drawing up plans to ensure their new drug isn't a quick hit. The Japanese company says it's proceeding with caution now that the medicine, which may be the first new tuberculosis treatment in four decades, passed a key test."
MedPage Today (6/7, Neale) notes that two physicians, Dr. Richard Chaisson and Dr. Eric Nuermberger of Johns Hopkins University, wrote in an accompanying editorial that "it is important to accelerate research to identify the best regimens of new and existing drugs and guide clinicians in the most effective application of these drugs."
HealthDay (6/7, Salamon) quotes study co-author Lawrence Geiter, vice president of global clinical development for Otsuka Pharmaceutical Co., as saying, "I think it's very important that we have, in delamanid, the potential for a new drug in the first class of new drugs in 40 years."
Additional TB R&D News:
Drug-Resistant Tuberculosis A 'Serious Epidemic' In China
Growing Presence of Drug–resistant Tuberculosis Fuels Need for More Screening
David Woodland: The growing tuberculosis crisis
Neglected Diseases – How Should We Pay for R&D?
NIH gives $5.9 million grant to for new tuberculosis vaccine
Scientists solve 1,000 protein structures from infectious disease organisms