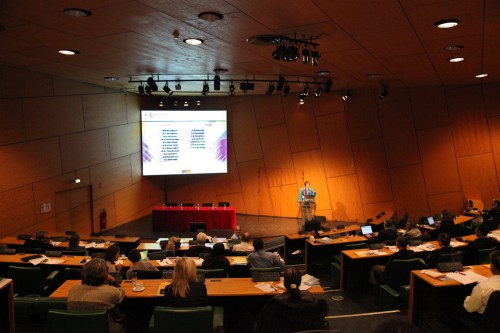 During last week, the Stop TB Partnership Working Group on New Drugs had a successful annual meeting in Lille, France, in conjunction with the 42nd Union World Conference. There were several updates to the Global TB Drugs Pipeline showing progress toward the goal of better treatment for TB in all patient populations. A full synopsis of the events will be posted on www.newtbdrugs.org in the coming weeks. A few key highlights include:
Otsuka has moved its nitroimidazole compound OPC-67683 recently named Delamanid into Phase III clinical testing and is currently recruiting. A description of the study can be found at ClinicalTrials.gov. Click here to read more.
Tibotec completed Phase II testing on TMC-207 (Bedaquiline) for MDR-TB indication and will be advancing to Phase III testing in mid 2012.
Dr. Carl Mendel, TB Alliance's Senior Vice President of Research & Development, presented the results of the NC001, or New Combination 1, trial. The six-arm study tested together PA-824, moxifloxacin, and pyrazinamide in a Phase II EBA trial, along with other promising two-drug combinations. NC001 proved the viability of the path for regimen development. With these results, the TB Alliance will now proceed to a 2-month "SSCC" study to further explore this regimen and other building blocks of future regimens.
TB Alliance has also moved a nitroimidazole compound called TBA-354 into preclinical testing advancing a new compound closer to clinical testing.
In 2011, two compounds moved from Phase I testing to Phase II testing: PNU-100480 (Sutezolid) and SQ109. In addition, BTZ043, a benzothiazinone, entered GLP toxicology studies which is the step before a compound enters clinical testing.
Spectinamides (St. Jude's) and pyrazinamide analogs (TB Alliance) were added to discovery projects.
Check out the online Global TB Pipeline to see the advancing portfolio of TB drug candidates. We welcome individuals and groups to submit their TB drug discovery or clinical projects.
Additional TB R&D News:
Wanted: Better, safer, cheaper TB drugs
Mechanisms of drug resistance in Mycobacterium tuberculosis
Substrate specificity of the Deazaflavin-Dependent Nitroreductase (Ddn) from Mycobacterium tuberculosis Responsible for the Bioreductive Activation of Bicyclic Nitroimidazoles
A novel metabolite of anti-TB therapy demonstrates host activation of isoniazid and formation of the isoniazid-NAD+ adduct
Mycobacterium tuberculosis thymidylate synthase gene thyX is essential and potentially bifunctional, while thyA deletion confers resistance to para-aminosalicylic acid
HEALTH: Straight talk with Stop TB Director Mario Raviglione