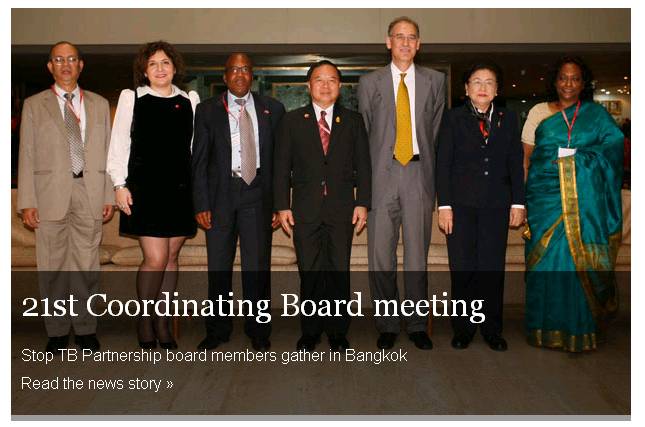 The 21st Stop TB Partnership Coordinating Board retreat and meeting officially started in Bangkok, Thailand, on Sunday, January 29th with the official opening ceremony held yesterday January 30th. Below are some exciting news from the meeting courtesy of Mark Harrington, Executive Director of the Treatment Action Group (TAG). For more information and to access materials from the meeting, click here.
The big news from the 21st Stop TB Partnership Coordinating Board meeting this week in Bangkok came from South African health minister Aaron Motsoaledi, who described the recent implementation of the national strategic plan for HIV and TB and the coming accord between the 14 Southern African Development Community (SADC) countries to implement a coordinated SADC regional response to the TB pandemic.
These notes are taken from his opening presentation at the CB meeting yesterday.
* Southern Africa is the epicentre of the HIV empidemic; in South Africa, 60% of TB suspects are HIV+.
* TB is particularly acute in South Africa and 4 of its labour-sending neighbours — Lesotho, Mozambique, Swaziland, and Zimbabwe (all of which are among the top 7 globally for per capita incident TB).
* South Africa's 500,000 mine workers have the highest TB incidence in the world, est. at 3-7,000 cases/100,000 population, most HIV+, some with silicosis.
* The gold mining sector is particularly hard hit with 11% TB incidence compared with an industry average of 5%; yet gold mines have limited TB + HIV services
(only 56% of gold mines have TB + HIV services vs. 78% of platinum mines).
* An extraordinary ministerial meeting on TB in mines will take place in April 2012.
* End result will be a SADC declaration on TB in the mining sector.
* Declaration will be signed by SADC heads of state in August 2012.
* Government representatives in the SADC region will include ministries of heatlh, mining/mineral resources, finance, and labour; other representatives will be from industry, organised labour, civil society, and global experts; the STP secretariat + World Bank have been supporting the process since October 2010.
* A regional action plan/code of conduct will inform TB interventions.
* Policies + protocols including treatment regimens will be harmonised across the SADC region.
* A regional "health passport" will be introduced for all migrant workers (including contract workers).
* Improved lab diagnostic services will be rolled out including new technologies such as GeneXpert.
An update on South Africa's HIV counselling and testing campaign (HCT):
* From April 2010 to June 2011, an effort was made to test 15 million South Africans for HIV, also TB screening and testing, and non-communicable diseases, including hypertension and diabetes.
* 15 million South Africans were screened for HIV, 88% consented to testing, 13.4 million were tested (89%), 2.2 million (18%) were HIV+.
* 7.9 million South Africans were screened for TB, 1 million (13%) were referred.
* From March 2011, 190 community based teams comprised of 1 nurse (team leader) + 4 community health workers were established to trace known TB cases in 200,000 households from a database of about 400,000 households, and family members (contacts) were tested for TB (sputa collected at home); counselling + rapid test for HIV was done at home; confirmed cases were referred to health facilities for prompt treatment.
* A CDC audit is being done of the data to report in March 2012.
* 41 GeneXpert machines have been rolled out and are providing 30% coverage; this will go up to at least 50% by the end of 2012, supported by GFATM, CDC, BMGF.
* 159,910 GeneXpert tests up to November 2011 were given; 26,904 detected TB (16.82%), whereas 128,473 did not detect TB and 4,533 were unsuccessful readouts.
The new South African National Strategic Plan rolled out in December 2011 seeks to achieve a long-term vision of:
* Zero TB + HIV infections
* Zero TB and HIV related deaths
* Zero TB and HIV related discrimination
* identifies high-risk vulnerable groups including mine workers
* calls for all South Africans to be screened and tested for TB and HIV at least once yearly, but more frequently for high-risk groups including mine workers
* emphasizes human rights + justice for patients + communities
Dr Motsoaledi highlighted this multisectoral issue which acutely impacts Southern Africa and for which African leadership is being mobilized — but it is also a global issue with serious implications for India, China, and elsewhere.
The Board agreed to write to the UN Secretary General asking him to write to all heads of state around the world informing them of this initiative and asking them urgently to turn their attention to a multisectoral approach to address TB in their countries.
In his closing remarks today, Dr Motsoaledi highlighted the recent construction of three MDR-TB hospitals in South Africa, reflecting that this was a sign of failure rather than success, and that success would consist in:
1. Short-course regimens to cure MDR-TB
2. No new MDR-TB being generated by bad treatment programs, and
3. The closing of the MDR-TB treatment hospitals for lack of need.
In response to the short-course regimens for MDR-TB issue Mel Spigelman of the TB Alliance approached the minister and asked for his assistance in helping to secure Medicines Control Council (MCC) support for the conduct of innovative trials of new short-course all-oral DR-TB treatment regimens in South Africa. Motsoaledi asked Spigelman to write him an official letter tomorrow and stated that the MCC needed to be reformed prior to its being replaced by a new and more professional drug regulatory authority after a new law being prepared is eventually passed in Parliament.
All told, we can see that South Africa — which already has the world's largest HIV treatment program — is also leading the way towards TB elimination through a unique and unprecedented combination of political will sparked by a long campaign by civil society to tackle the dual pandemics.
Special thanks go to ARASA for highlighting the TB in the mines issue several years ago and as always to Treatment Action Campaign for leading the activism over the past 14 years which has led to this incredible breakthrough.
–Mark Harrington–