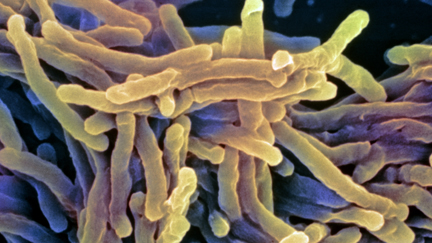 Executive Summary
To commemorate World TB Day 2013, The Lancet Infectious Diseases publishes a Series of papers on tuberculosis, a disease that has long plagued human beings and was declared a global emergency in 1993 by WHO. Without concerted action from political leaders, health policy makers, funders, and others, health systems worldwide are at risk of being overwhelmed by increasing numbers of patients with treatment-resistant tuberculosis.
As new diagnostic tests, drugs, and drug regimens become available that have the potential to radically improve the detection and management of tuberculosis, the papers in the Series explore the challenges for successful implementation of these interventions…
LIST OF CONTENTS
Comments
Tuberculosis 2013 Series
John McConnell, Sally Hargreaves
Zero deaths from tuberculosis: progress, reality, and hope
Alimuddin Zumla, Peter Kim, Markus Maeurer,Marco Schito
Progress and challenges in childhood tuberculosis
Ben J Marais, Stephen M Graham, Markus Maeurer,Alimuddin Zumla
Series Papers
Advances in tuberculosis diagnostics: the Xpert MTB/RIF assay and future prospects for a point-of-care test
Stephen D Lawn, Peter Mwaba, Matthew Bates, Amy Piatek, Heather Alexander, Ben J Marais, Luis E Cuevas, Timothy D Mchugh, Lynn Zijenah,Nathan Kapata, Ibrahim Abubakar, Ruth McNerney, Michael Hoelscher, Ziad A Memish, Giovanni Battista Migliori, Peter Kim, Markus Maeurer,Marco Schito, Alimuddin Zumla
Tuberculosis biomarkers discovery: developments, needs,and challenges
Robert S Wallis, Peter S Kim, Stewart Cole, Debra Hanna, Bruno B Andrade, Markus Maeurer, Marco Schito, Alimuddin Zumla
Tuberculosis comorbidity with communicable and non-communicable diseases: integrating health services and control efforts
Ben Marais, Knut Lönnroth, Stephen D Lawn, Giovanni B Migliori, Peter Mwaba, Philippe Glaziou, Matthew Bates, Ruth Colagiuri, Lynn Zijenah,Soumya Swaminathan, Ziad Memish, Michel Pletschette, Michael Hoelscher, Ibrahim Abubakar, Rumina Hasan, Afia Zafar, Guiseppe Pantaleo,Gill Craig, Peter Kim, Markus Maeurer, Marco Schito, Alimuddin Zumla
Alignment of new tuberculosis drug regimens and drug susceptibility testing: a framework for action
William A Wells, Catharina C Boehme, Frank G J Cobelens, Colleen Daniels, David Dowdy, Elizabeth Gardiner, Jan Gheuens, Peter Kim, Michael E Kimerling, Barry Kreiswirth, Christian Lienhardt, Khisi Mdluli, Madhukar Pai, Mark D Perkins, Trevor Peter, Matteo Zignol,Alimuddin Zumla, Marco Schito
Drug-resistant tuberculosis: time for visionary political leadership
Ibrahim Abubakar, Matteo Zignol, Dennis Falzon, Mario Raviglione, Lucica Ditiu, Baroness Susan Masham, Ifedayo Adetifa, Nathan Ford,Helen Cox, Stephen D Lawn, Ben Marais, Timothy D McHugh, Peter Mwaba, Matthew Bates, Marc Lipman, Lynn Zijenah, Simon Logan,Ruth McNerney, Adam Zumla, Krishna Sarda, Payam Nahid, Michael Hoelscher, Michel Pletschette, Ziad Memish, Peter Kim, Richard Hafner,Stewart Cole, Giovanni-Battista Migliori, Markus Maeurer, Marco Schito, Alimuddin Zumla
Engaging communities in tuberculosis research
Renaud F Boulanger, Stephanie Seidel, Erica Lessem, Lee Pyne-Mercier, Sharon D Williams, Laia Ruiz Mingote, Cherise Scott, Alicia Y Chou, James V Lavery, on behalf of the Critical Path to TB Drug Regimens' Stakeholder and Community Engagement Workgroup
Audio
Tuberculosis 2013
Marco Schito and Richard Lane discuss highlights from the Series.
Profile
Alimuddin Zumla: infectious diseases guru and survivor
The Lancet