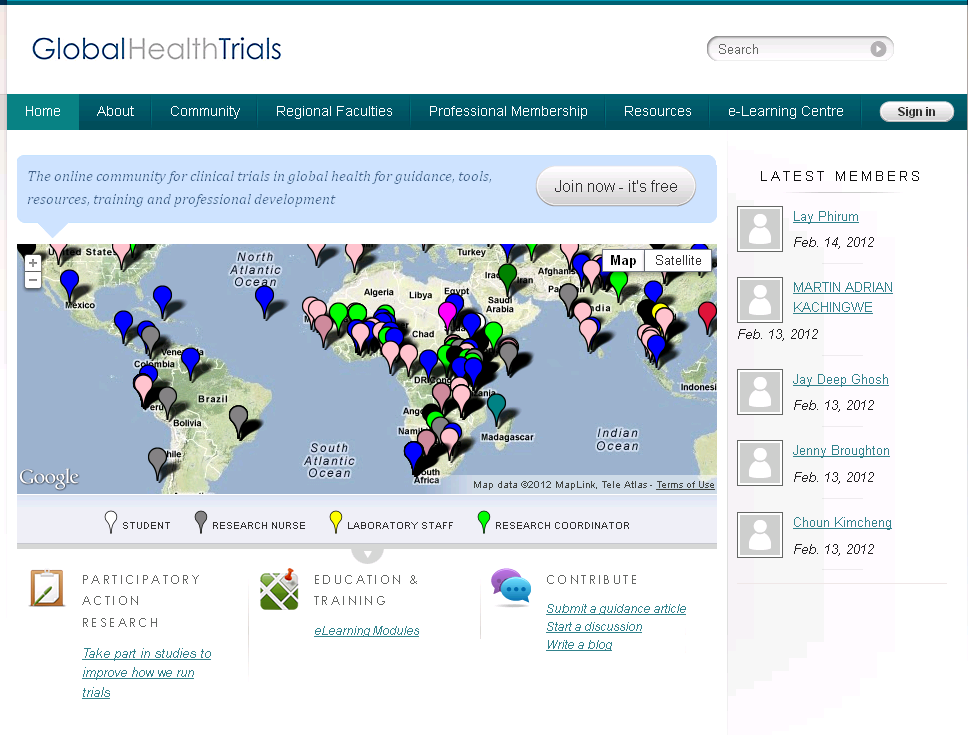 We would like to share an exciting development in the field of global health, which has been launched in the last six months – an innovative professional membership scheme for tracking the continued professional development of clinical research staff across all types of trials and all regions.
The professional membership scheme is located within Global Health Clinical Trials (www.globalhealthtrials.org), which is a web platform to facilitate clinical research by providing researchers and research staff with tools, resources and a professional for sharing knowledge. The site is extremely popular, and is being used by 20,000 trialists across 56 developing countries to access free guidance articles, resources, discussion forums and free eLearning materials provided. The professional membership scheme is a new development on the website, and aims to professionalize the concept of clinical research as a career path by helping researchers to track their ongoing career development. The scheme is aimed at the whole clinical research team – investigators, data entry staff, data managers, research nurses, coordinators – everyone!
The scheme has five membership levels, each with three sub-tiers, and members can work their way through the scheme by learning new skills, attending conferences or workshops, giving presentations, completing eLearning courses, gaining new qualifications and so on. Users are required to fill in their profile initially by giving their job history, education, and by filling in a range of competency assessments related to usual work – these are all written specifically for clinical research skills. The profile is then scored and the member is given their initial membership level; they can add new skills and qualifications at any time to work their way through the levels.
The scheme uses bank level security, so users can be assured of the safety of the data they input into the website. The data people enter is also audited, so that employers can trust the information given; if a job applicant says that they have a Global Health Trials Professional Membership Score of Associate level 3, this can be recognized as a reliable gauge of their experience and range of skills. The scheme also allows the user to print off a GCP standard CV at any time, which can therefore be used for job applications and protocol documents.
The Professional Membership Scheme has so far proved very popular, with new members of Global Health Trials joining all the time as they are enjoying the opportunity to capture their skills and training whilst have a mechanism to guide and develop their careers. New members and feedback are always welcome, so please do not hesitate to join! The link is https://globalhealthtrials.tghn.org/cpd/. The professional membership scheme is funded by the Bill and Melinda Gates Foundation and WHO-TDR and is recognized by many high level research organizations.